Artist: KTH Architectural Lighting Design Master Program Students, Rodrigo Muro & Foteini Kyriakidou 
Location: Brunkebergstunneln
Artist: KTH Architectural Lighting Design Master Program Students, Rodrigo Muro & Foteini Kyriakidou 
Location: Brunkebergstunneln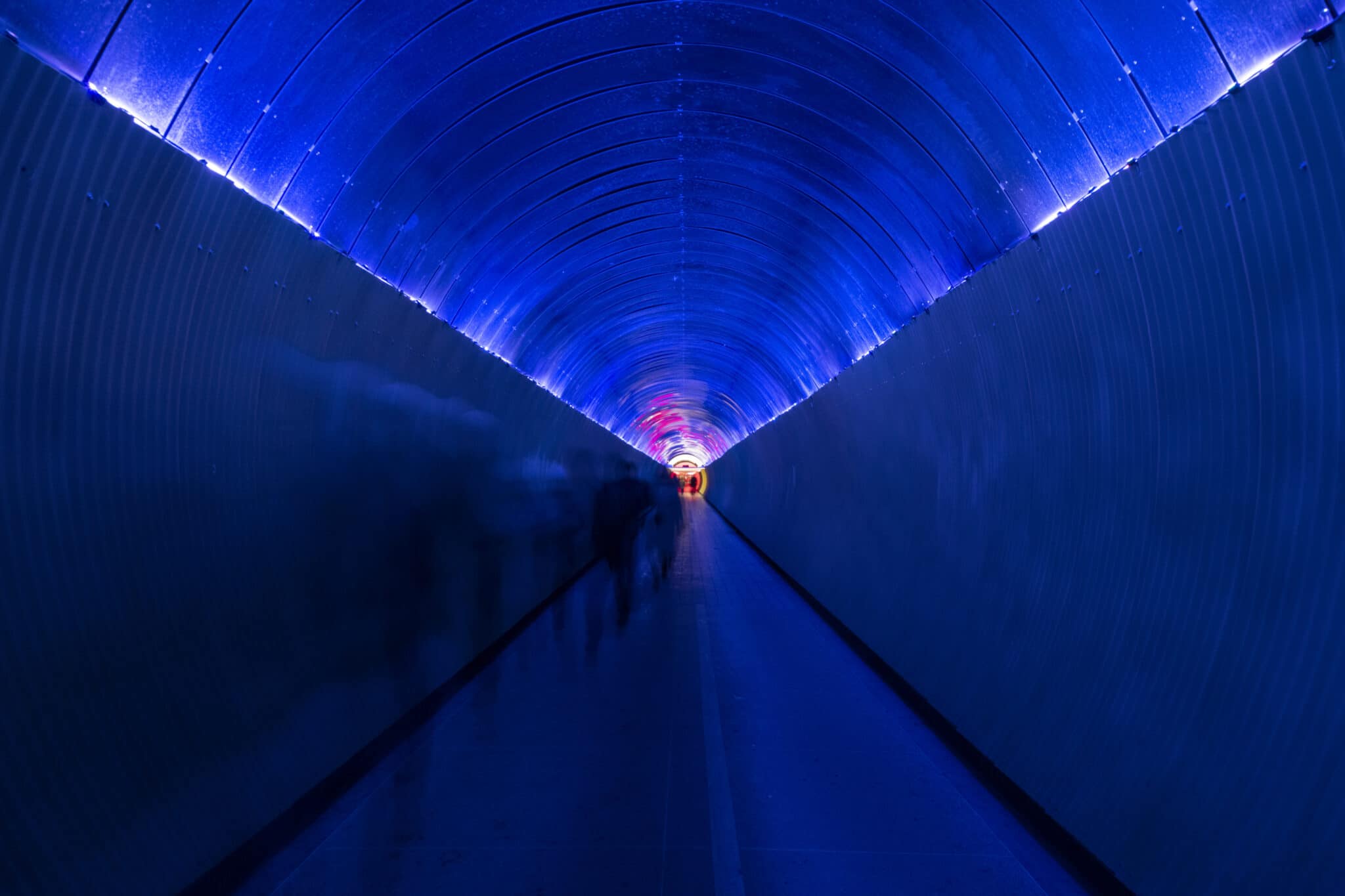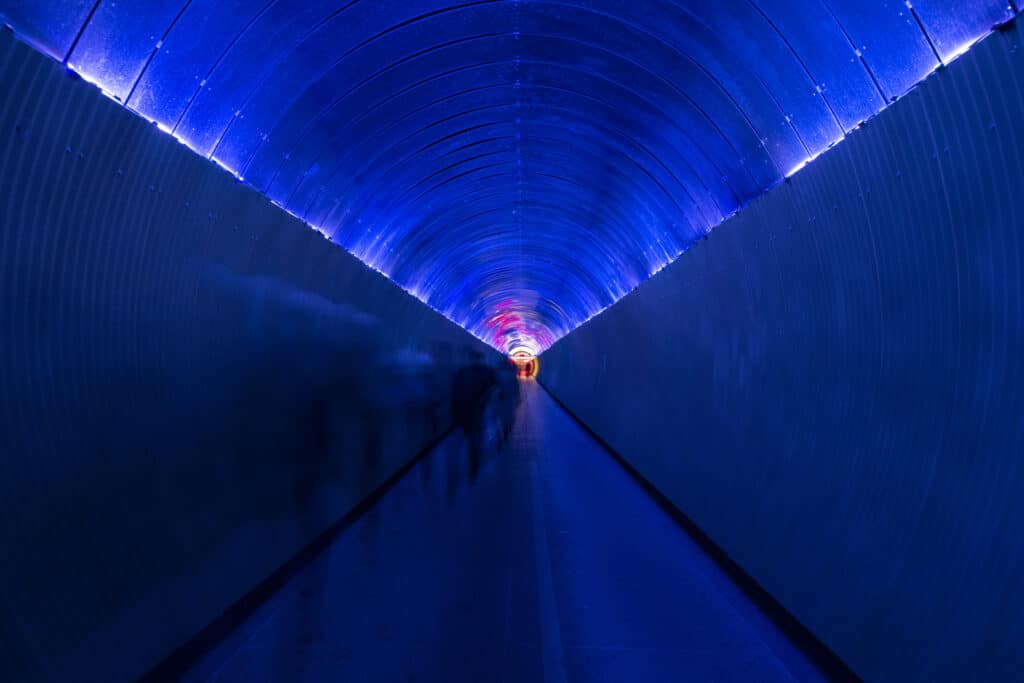 The Lighting Installation captures the binomial nature of Alfred Nobel's character. On one side there is his technical approach, by which he created numerous inventions such as Patent 102 (dynamite) for the benefit of humankind. On the other, his artistic side by which he wrote poetry such as the famous poem You say I am a riddle. Both of these gave inspiration to Riddle 102 and the light installation at Brunkebergstunneln.
The installation aims to be an immersive experience, altering the perception of the tunnel's physicality. Much like the time continuum altered space into a new reality, the tunnel
brings back the memory of the blasting and freezing techniques that made its construction possible. The core of the tunnel will break as well as merge both experiences into a spatial riddle. Different luminous translucent surfaces will visually and emotionally connect to Hot and Cold concepts and bring mystery to the experience, and reshape the physicality of the tunnel. Additional multi-sensorial aspects, sound and heat, add richness to the immersive experience of the Lighting Installation.
The installation is supported by: KTH, Signify & Stockholm Lighting.
Students:
International students of the Architectural Lighting Design Master Programme 2021- 2022, offered at KTH with different educational and professional backgrounds in architecture, urban design, interior design and theater and cinema lighting. Already successfully fulfilled the Light + Humans and Light + space outdoor courses. During the festival week, students will also run an investigation and evaluation of the lighting installations at Nobel Week Lights.
Teachers:
Rodrigo Muro
Architect and Lighting Designer.
Independent Professional and educator for the Masters in Architectural Lighting Design and in Masters in Architecture at KTH as well as guest speaker at different international universities and conferences. Active member of the Lighting Division at KTH as Program Director Master in Architectural Lighting Design, he is also involved in research.
Foteini Kyriakidou
Architect and Lighting Designer.
Lecturer, tutor and responsible courses at the Masters in Architectural Lighting Design, Architecture School, KTH. She also participates in research programs related to light and health. Previously, she worked as an architect and lighting designer in Greece and Qatar.
Design and installation team:
Lighting Design – Students Miray Altindis, Ines Bartl, Johana Cuero Byström, Gabriel Dos Santos Pinheiro, Elsa Frisén, Ana Karen Isaac Membrila, Mathilde Jesiek, Tanzina Khan, Jenny Christina Leijonhufvud, Yanwei Liu, Alejandro Lizarralde, Seth Margolies, Monica Marin, Laura Müller, Anna Paraboschi, Helena Peres Caixeta Silva, Sergio Pérez, Jelena Popov Abouhanian, Grzegorz Robert Ruta, Avani Shah, Adrian Stapleton, Anusha Sullia Vijayananda.Teachers Rodrigo Muro and Foteini Kyriakidou.
Lighting Control – Jim Farula, ljusdesigner/ programmering (The Lion Awakens AB)
Sound Design – KONSTFACK, Students from the course Sound in Interaction: Sound Art, Sound Architecture and Sound Design. Teachers: Ricardo Atienza och Robin McGinley.
Students: Cecilia Enberg, Edith Fung, Jakob Hördegård, Jordana Samie Loeb, Nina Qi, Lars Johan Schalin, Jenny Waz.