Artist: Emma Hjortenklev Wassberg  Location: Västerbron
Artist: Emma Hjortenklev Wassberg  
Location: Västerbron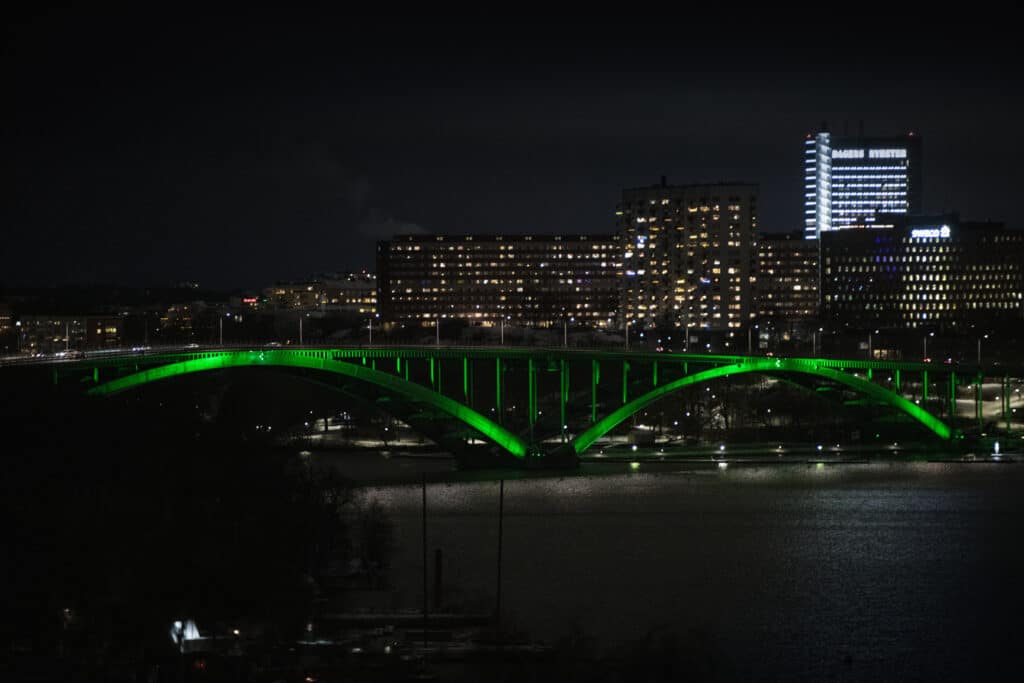 Marie Curie was one of the most prominent figures of the 20th century. She was the first woman to be awarded the Nobel Prize for her discoveries and is still the only woman to have received the Nobel Prize twice, one in physics and one in chemistry. Her research into radioactivity has been of great importance, not least in the treatment of cancer.
During Nobel Week Lights 2021, Emma Hjortenklev Wassberg wants to interpret Marie's first Nobel Prize in Physics, which she shares with her husband, Pierre Curie and the scientist Henri Becquerel.
Radioactivity has a recognizable visual identity, in that it glows green in the dark. It can be experienced as thrilling, mysterious and dangerous. With this work, the artist wants to pay tribute to Marie Curie for her outstanding work at a time when women were discriminated against, opposed and rarely had the opportunity to pursue their dreams.
Västerbron's fantastic design – the two arcs that together create an M (which can be interpreted as another tribute to Marie) can also symbolize the electromagnetic radiation's wave-shaped flow. Västerbron becomes a natural place for the artwork of this Nobel Prize laureate. The bridge can be seen from several areas in the centre of Stockholm and is a local landmark.
The illuminated arches are lit up in green using a number of different methods. The green shimmers, pulsates and wanders along the arches. The concept is that the bridge arches should radiate as if the bridge is radioactive. The light movement is slow and has an almost mysterious character. With the installation, Emma Hjortenklev Wassberg wants to illustrate the duality of radioactivity in human hands, in the service of good or evil. A striking installation that creates space for different interpretations.
Emma Hjortenklev Wassberg has a bachelor degree in industrial design at Lund University, and has also studied interior design at Aalto University in Finland. She is also active in the field of art as well as light design.
After receiving first prize in the landscape architecture competition Oyster 2019 where the proposal was a large-scale light installation, Emma continued to explore the field of light design. Her multidisciplinary background makes her a creative problem solver with a strong sense of detail. Regardless of the project, the goal is to create a perfect harmony and atmosphere that makes the audience enter her world, where you are offered everything from poetic melancholy to liberating strength.
Emma was one of the artists who produced the artwork "I want to hold you in my arms but I'm not allowed to" which was shown during Nobel Week Lights 2020.