Artist: Séverine Fontaine  Location: Stadsgårdsterminalen
Artist: Séverine Fontaine  Location: Stadsgårdsterminalen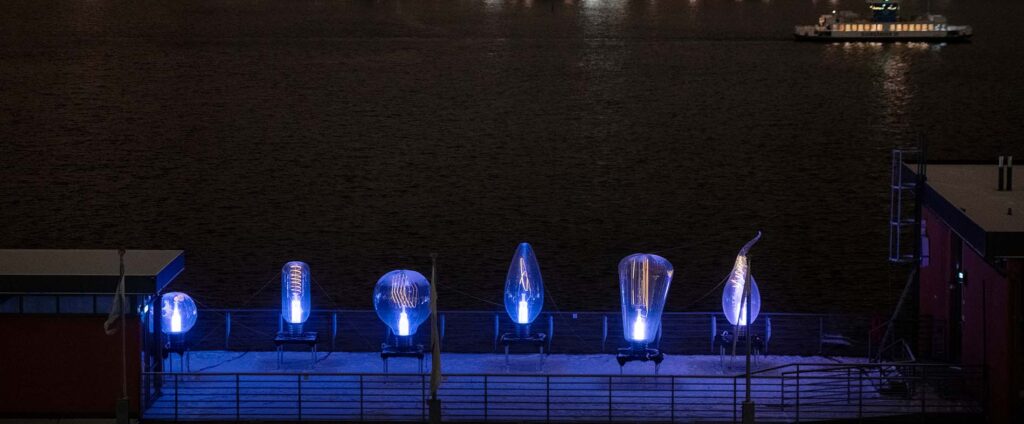 INCANDESCENCE invites the viewer on a journey of emotions into the heart of a universe that links the human being with light. This creation presents a series of monumental works that evoke the ancestor of present day lighting: the incandescent bulb.
What makes INCANDESCENCE so original is its spectacular form.
"The creation of the scenography hinges on the alliance between the classic luminous object and the modern-day, innovative materials used in their technical fabrication. The luminous effect is produced by the filaments, conducting wires and bodies of sculptures. The inside of a lightbulb is a representation of ourselves, a luminous body through which energy passes." – Séverine Fontaine
The sculptural light bulbs provide us with a range of sizes, shapes and filaments, thereby illustrating the variety of present day lighting. The artist drew components of the bulbs, inspired by various external shapes and monumental sizes. The different sculptures range from 1.30 meters to 3 meters tall. Their different shapes bring a human dimension to the bodies of the light bulbs themselves.
The original work INCANDESCENCE was created for the Festival of Lights (Lyon, 2014) in the form of a 100-meter long centerpiece transforming the banks of the river Rhône into a luminous landscape. For Nobel Week Lights 2021, the artist will present a new edition of the original artwork: a ballet of light, composed of seven of the luminous bulbs.
The light bulb itself is a visual synonym for news ideas and genius, connecting to the values of the Nobel Prize: ideas that change the world for the benefit of all humankind.
The installation is created by Séverine Fontaine (Cie IKB), powered by Wireframe and supported by S:t Erik Markutveckling AB.
Severine Fontaine develops transdisciplinary projects that bring into question the human element in our contemporary world via theatre, visual and scenographic installations and light installations. She has studied at the Centre Dramatique National in Besançon and at the IUP Métiers des Arts et de la Culture in Lyon. She wrote her thesis on the topic of social engagement in directing contemporary theatre in France.
In 2008, using the metaphor of the incandescent bulb as her starting point, she began working on a project based on interviews with elderly people and young adolescents. This project led to the conception of a series of luminous installations, including Incandescence which premiered at Fête des Lumières, organized by the city of Lyon. Since this creation, she continued to create projects with anthropomorphic light objects, such as robotic lamps and immersive and monumental shows. Her work is presented internationally, especially in Europe, Canada and Argentina.