Artist: Fredrik Jönsson  Location: Strömparterren
Artist: Fredrik Jönsson 
Location: Strömparterren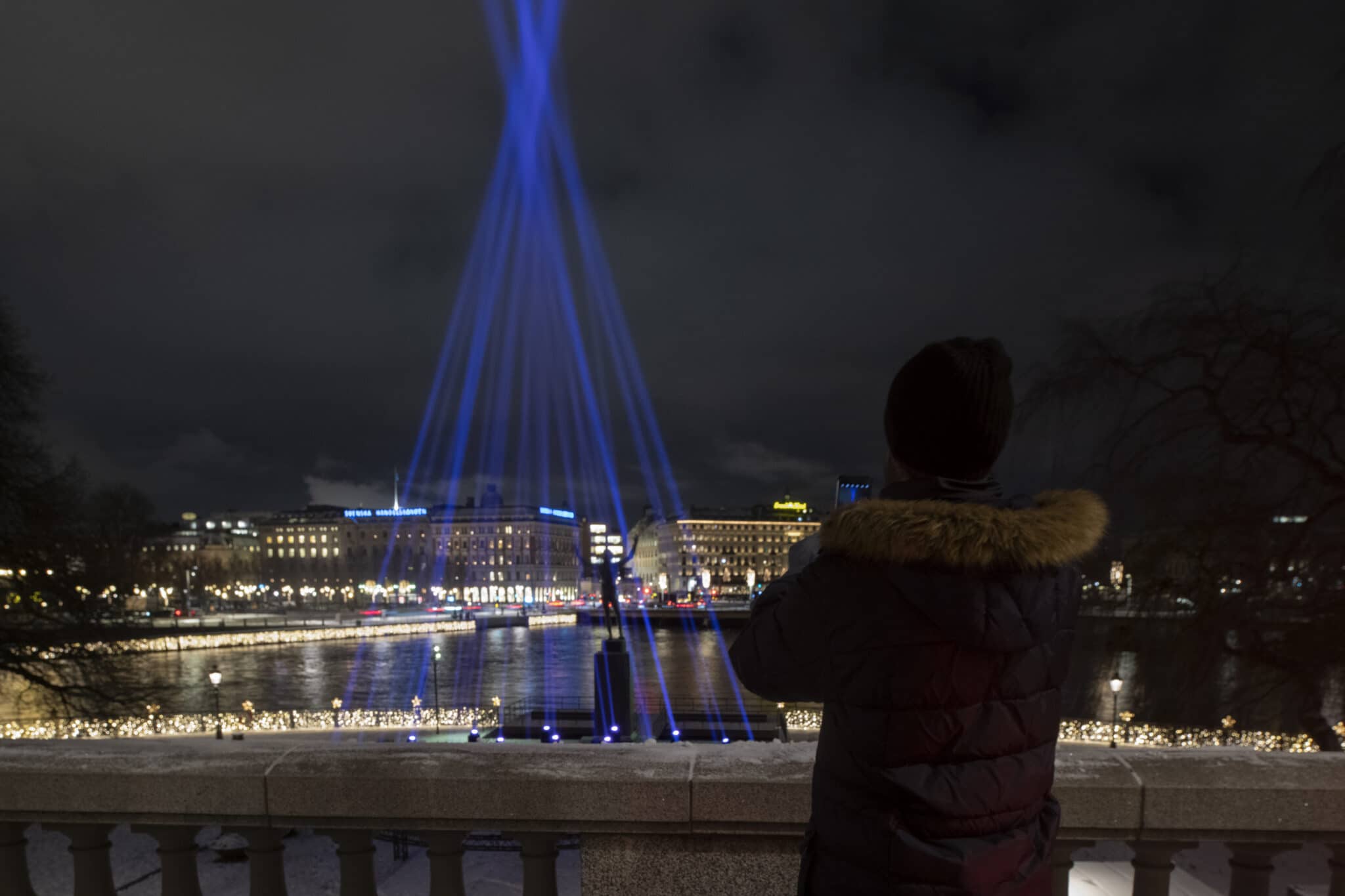 Dialog is a light installation on Strömparterren that was inspired by the Nobel Prize in Physics in 2009. Charles K. Kao then received the prize for "groundbreaking achievements concerning the transmission of light in fibers for optical communication".
The concept consists of strong animated light rays directed towards the sky. Bright moving light fixtures will produce a cluster of strong light rays, similar to what happens on the inside of fiber optic cables.
What we experience is the light – full of information! It is animated, moving, pulsating, flickering and colored in different sequences and patterns to symbolize the gigantic flow of information that on a daily basis passes through all the world's fiber cables and binds people together. The rays are so strong that any weather phenomena such as clouds, snow, rain and fog will be hit by the light in different unique ways, and thus be included in the installation as a receiver and background – constantly changing!
The dialogue in the world's fiber optic cables is constantly ongoing and changing, just like the light in this installation! Due to its location on Strömparterren, the artwork will be visible all over Stockholm, but you will have the best viewing points at Grand Hotel and Strömbron.
Installation is supported by: Clay Paky.
Fredrik Jönsson is a multiple award-winning lighting designer, who has worked with lighting in a variety of forms and contexts for more than three decades. His awards include, among others, the prestigious Lighting Designer of the Year at TPi Awards in London. He constantly finds new creative ways to design lighting, regardless of the size of the project or the type of installation in question.
Among Fredrik Jönsson's accomplishments include lighting design for 20 consecutive editions of Melodifestivalen, award winning lighting design for the Eurovision Song Contest in both 2013 (Malmö) and 2016 (Stockholm) as well as numerous large scale television productions. In addition to this, he also works with events, tours and various lighting concepts for interior design and architecture. He also lectures on different methods of working and designing with light for events and TV broadcasts.