Artist: Fanny Englund & Bruna Porsia (Light Bureau)  Location: Handelshögskolan

Artist: Fanny Englund & Bruna Porsia (Light Bureau)  
Location: Handelshögskolan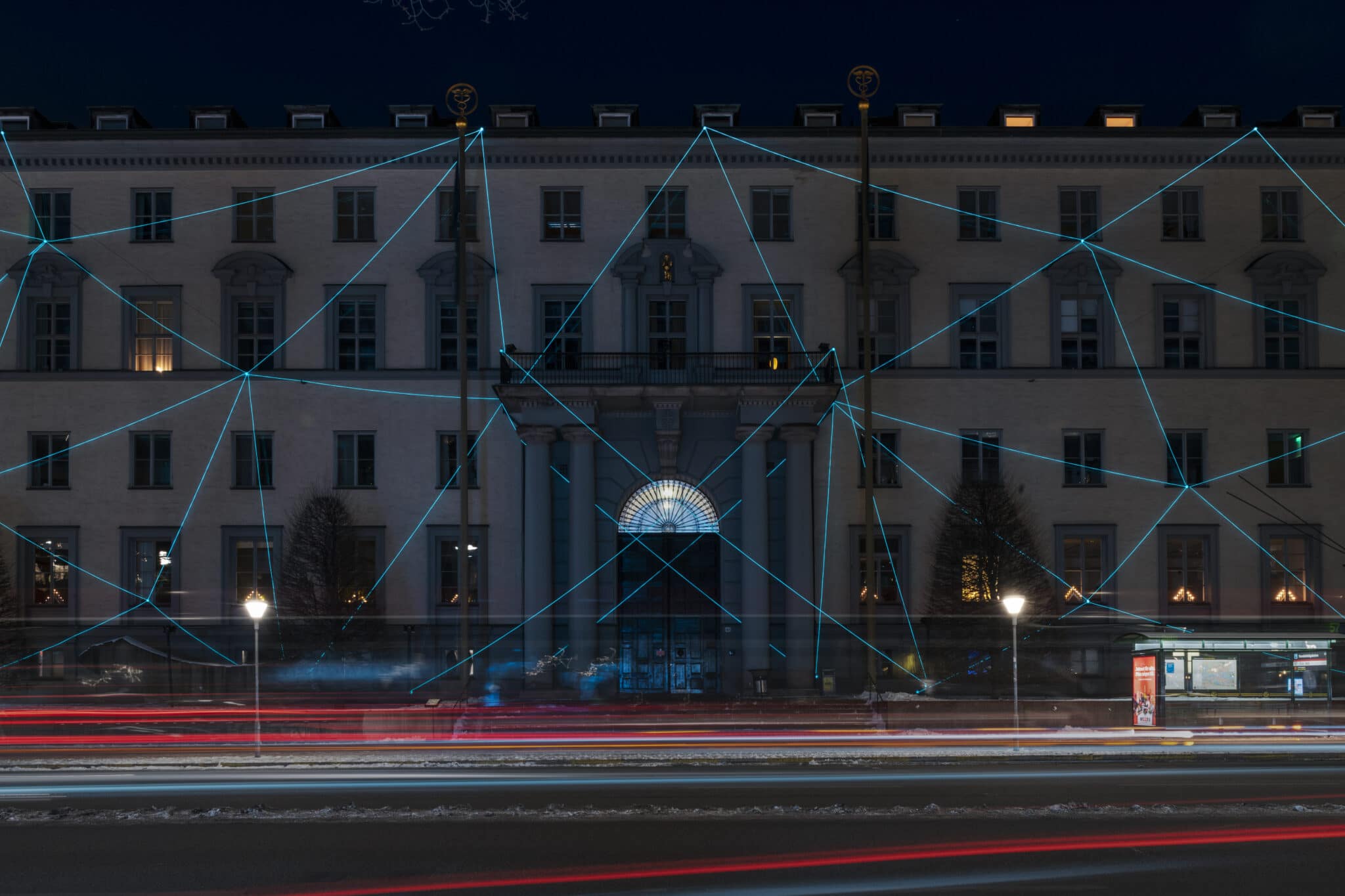 The installation at Stockholm School of Economics (Handelshögskolan) is inspired by Bertil Ohlin and James E. Meade who in 1977 jointly won the Prize in Economic Sciences in Memory of Alfred Nobel "for their pathbreaking contribution to the theory of international trade and international capital movements."
To make international trade work, it's not enough that money and goods exchange hands. It also requires us to make connections to people in other countries. In this way, business relationships in a global world can make us understand each other better.
The light-art installation is intended to show the ties between people, countries, and cultures. The nodes shine like stars and guide us to meet in the dark.
Bertil Ohlin graduated from Stockholm School of Economics, and later on served as a professor in economics there between 1929-1965. He is one of the most well-known professors at the school.
Fanny Englund and Bruna Porsia, lighting designers at Light Bureau, are the creators of the lighting installation. They have vast experience within architectural lighting design for private and public realms. In 2018, Fanny was awarded "40 under 40" for international lighting designers.
Fanny and Bruna are very passionate about creating lighting environments that highlight and blend into the environment, where light becomes the messenger of the architecture and the surroundings. However, in the installation at the Stockholm School of Economics, they worked the other way around, letting the light speak and tell the story.
Light Bureau is an international and award-winning lighting design practice. With more than 100 devoted lighting specialists we work with light to enhance life and accelerate the transition towards a sustainable society. We are a proud part of the international engineering, design and advisory company AFRY.
We live by our motto: "Inspiring Light".